About Us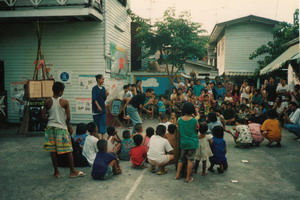 Makhampom has been variously described as a family, a kindergarten, a university, a community, a food centre, oh, and a theatre group. In essence it is a social organization that works in the medium of theatre. From inception, Makhampom has had a folk character, reflected in the sense of family, a playfulness, and a Makhampom lifestyle. As a group, generated by and generating volunteers, it is the love of the group and the love for the work that has seen generation after generation of volunteer sustain the organization.

Bangkok has traditionally been the home of Makhampom, but the idea of a countryside base has been long in the dreams. Chiang Dao is now this place, as Makhampom now lives in both the city and countryside. The Makhampom Living Theatre in the north of Thailand and the Makhampom Studio in the Bangkok are the hubs of Makhampom's activities, as our work starts to take some new directions.

If you would like to know a bit of our history, how the Makhampom people work, our places of work, or who's who please scroll down the page…
A Bit of History
Makhampom emerged out of the political movement of the 1970s. From 1973 to 1976, Thailand enjoyed its brief moment of "democratic sunshine" before behind crushed by a brutal military crackdown, known as the October Event. A small, but vocal political theatre movement emerged as part of the student democracy movement, but was largely dispersed following the crackdown, either to join the Communist Party of Thailand in the jungles, into exile overseas, or into underground activities in the urban centres.

Following a government pacification program, the activists regrouped to develop Thailand 's network of non-government organizations (NGOs). A call of "back to the library" of the 1960s and 1970s transformed into that of "back to the village" in the 1980s. A cross-section of NGOs developed combining socialist ideas with those of indigenous culture, communal traditions, folk wisdom and Buddhist principles, emerged as the heart of Thailand 's democratic movement. This was the social, political and cultural context within which Makhampom emerged, originally created under the banner of Grassroot Micro Media Project with the objective of providing alternative, local media to marginal communities. Theatre was one, although major, aspect of this project, but soon grew to become the dominant feature of the group.

The Makhampom Theatre Group was formed in 1981, less as a company of artists, than as a group of activists. Makhampom, together with its sister organisation, Maya, provided the basis of a community-oriented, educative approach to theatre, characterised by the term, "grassroot". Makhampom was fundamentally an experiment in theatre within an NGO movement that was itself an experiment in progressive social and political change. The group formed as "an ad-hoc group of teachers, journalists, actors, and dancers". Most volunteers joined with the socio-political objectives of the NGO movement, the annual volunteer induction workshops, which have provided the ongoing mechanism for Makhampom's membership, have attracted students, artists, activists, unemployed workers, and even monks, with various motivations and expectations. Long-term Makhampom member, Pongjit Saphakhun, from a rural village background, spoke of notions of "appearing in glamorous costumes" when she responded to an advertisement for volunteers.

The combination of a 'loosely-defined' concept of 'community theatre' and the oppositional ideology of the NGO movement provided the basis for Makhampom's identity as a unique organisation in the Thai socio-cultural lexicon. An educational approach to theatre, primarily targetting children and youth, was combined with an issue-orientation. Indigenous rights, environmentalism, prostitution, and democracy were themes adopted from a humanist perspective rather than a radical, class-orientation. Makhampom's community praxis reflected the "socio-cultural" approach of the broader Thai NGO sector. As such, Makhampom's ideological development was consistent with the development of the NGO movement as a whole.
Makhampom's history can be described in terms of five phases: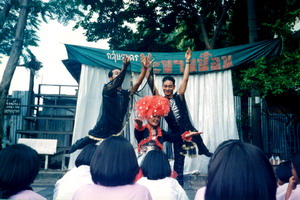 I. Foundation Phase 1981-85
This period was largely experimental, in the use of theatre and the way to apply it within the community context. Makhampom undertook several large educational theatre projects throughout this period. There was also still a degree of street performance in support of the democracy movement. The leadership of the group went through several transitions as the membership waxed and waned.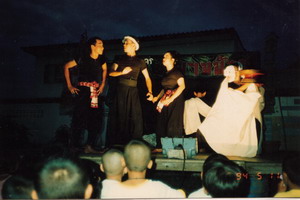 II. Inactive Phase (or Dark Age) 1985-92
Political censorship, Makhampom's leadership problems, ideological conflict and financial insecurity led to a long period of limited activity. At one stage there were only two members maintaining the group in name only.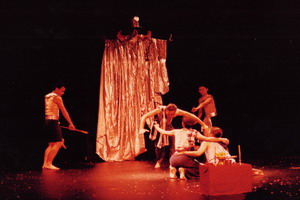 III. Reincarnation Phase (or Golden Age) 1992-97
Pradit Prasartthong, as director of Makhampom, committed to trying again with the group, leading to a resurgence in activity. He promoted the exploration of a contemporary Thai theatre style, marrying traditional and modern forms and styles. Four major touring productions, within Thailand and overseas, provided an opportunity to explore this 'new tradition', and gave Makhampom a strong profile as one of Thailand 's key theatre groups. Concurrently, several long-term community theatre workshop projects were initiated, some of which have continued over a period of 8 years. This period also saw an increase in volunteers joining the group, such that Makhampom took on the form as a sort of alternative institute for training in community theatre and folk arts.

IV. Survival Phase 1997-2002
The Asian financial crash of 1997 (popularly known as Tom Yum disease) affected Makhampom severely. Due to the change in regional geo-politics, international funding agencies shifted their priorities away from Thailand , and the budgetary crisis in Thailand meant that traditional sources of support dried up. Makhampom began a period of reduced activity, semi-commercial performance and workshop programs, and fundraising projects, including the new international initiative of the Study Tour. This also included the 20th year commemorative event of Likay Apiwat, marking Makhampom's experiment in the popular theatre, likay form.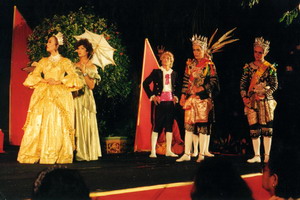 V. Coming of Age Phase 2002-current
From 2002, there has been a strong commitment to develop Makhampom towards its potential. This has involved the development of a new generation of leadership to relieve the burden on Pradit, to develop financial independence through a broad-based strategy, to professionalise the organization, and to diversify Makhampom's program of activities. The Bangkok Theatre Festival represents a major initiative in supporting the growth of Thai contemporary theatre, the Living Theatre venue in Chiang Dao becomes both community centre and fundraising base and the Studio in Bangkok becomes the home of Makhampom's performance work.